Diane Porterfield-Bourne
Menopause or Just Me?
I'm Diane Porterfield, a Nurse Practitioner with over 30 years nursing experience.
Teaching people how menopause can impact their home life, work and relationships is a subject I feel needs much more publicity. Many women are quitting their jobs as they feel unsupported and unable to cope with work. This shouldn't be happening and employers need to address these issues.
It is important menopause is explained by qualified medical professionals, who understand the physiological changes occurring during menopause.
I am committed to raising menopause awareness to all over the UK. I feel very passionately about ladies health and how menopause can effect women physically and emotionally. Do not let menopause and your hormones control your life, with education and treatment you and your families lives will improve.
It's time to take control and start living again.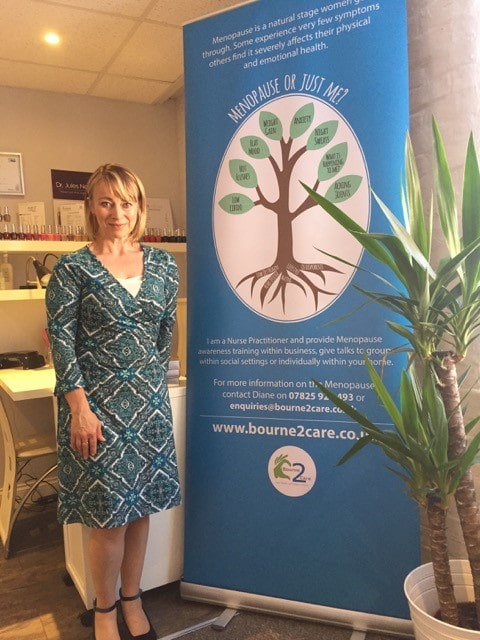 I can help make your menopause a positive experience.
We associate menopause with ageing and who wants to be reminded of that? Often women tell me menopause is something ' to be endured', well the answer is no it isn't. Women can begin to experience symptoms in their late 30's so its vital we understand how our bodies will change. 
Menopause will happen to every women. Identifying that you maybe menopausal is the first step. Then you should seek professional medical advice. With any health concerns it is vital you seek the advice of your GP.
Important Update.
In August 2020 , I will be opening my private menopause clinic within Beautoxology in Belbroughton, Worcestershire. I will continue to provide on line video or telephone consultations and prescribe HRT.  Please email me at
enquiries@bourne2care.co.uk or call 07825 925 493.
It's absolutely vital women do not neglect their physical and mental health. This is a time of great anxiety. I can help reassure you and advise on how to cope.
There is so much conflicting information around menopause and Hormone Replacement Therapy (HRT), many women feel confused and worried. You don't have to, book an appointment with me.
After listening to your main concerns and discussing your health, I can prescribe you the best HRT or discuss other treatments to help. Together we can develop a plan of care to improve your physical symptoms, emotional well being and long term health. Symptoms of menopause can make women feel anxious, forgetful, exhausted all the time and many people struggle with work and relationships. Talking to an experienced nurse who understands the impact low oestrogen has on your health will make a huge difference.
Your 1 hour private consultation is £145 which includes issuing your private prescription. If your consultation is longer than the hour this will increase to £215. 
I am offering reduced rates for Current NHS Staff, Police, Fire or any Emergency Service Personnel. Just bring your ID. 
£99 for your 1 hour consultation which includes issuing your private prescription. If your consultation lasts longer this will increase to £145.
On selected dates and times each month. 
Please contact me for more information.
Diane has been such a god send. I made contact with her through recommendation from my best friend. I have suffered with menopausal symptoms and Diane's advice and guidance has changed my life for the better. Michelle O'Reilly
I was one of the fortunate ladies who attended an evening meeting held by Diane from bourne2care, where she gave invaluable advice on the minefield that is the menopause. Along with a very sympathetic ear she also gave us up to date medical advice. A pleasure to meet you Diane hope to attend another meeting soon. Vicky Cummins
Diane is a wealth of knowledge on all things menopausal – really helpful and explains things really clearly. Would definitely recommend Diane to anyone. Sally Chambers